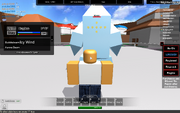 Description
Edit
Regice is composed of Antarctic ice that resembles a crystal. Its face has an unusual pattern consisting of seven yellow dots in a "+" formation.
Can not be found in the wild. Can be bought via Game Pass for 75R$ or 3500 TIX.
Give after hatched* Bubblebeam
Evolution
Edit
Does not have any other evolution form.