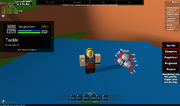 Magneton is a Electric/Steel type Pokémon.
Magneton are not found in the wild. To get one, you must catch a Magnemite at the Power Plant and raise it to Level 30.
Start - Tackle
Start - Thundershock
Level 45 - Thunderbolt
Evolution
Edit
Magneton evolves from Magnemite at Level 30.
Type Weaknesses/Strengths
Edit