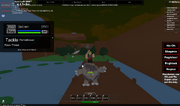 Description
Edit
Golem is a turtle-like bipedal Pokémon with plated rocks as its shell.
Cannot be found in the wild.
Evolved - Tackle , Rock Throw, Flamethrower  
Evolution
Edit
Previous evolution forms are
Geodude
and
Graveler
. Geodude becomes Graveler at level 25, and then Graveler becomes Golem at level 40, learning Flamethrower at the same time.