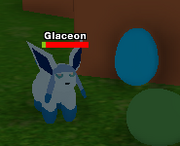 Description
Edit
Glaceon is a quadruped, mammalian creature covered in light-blue fur that can be frozen into sharp quills. It has long, pointed ears, dark eyes, and a small nose.
Glaceon can not be caught in the wild. However, you can obtain Glaceon by Evolving an Evee.
Evolved by Eevee: Quick Attack
Level 35: Psychic
Level 45: Surf
Level 55: Psybeam
Level 65: Water Pulse
.