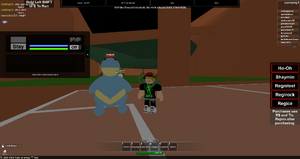 Description
Edit
Feragilatr is a crocodile like pokemon with a red fin like fin on its head. it has a stripe zigzag yellow color on its stomach.
Cannot be found in the wild.
Evolved-Bubble , Bubblebeam. Forgets scratch
Level 40 surf
lvl 55 hydro pump
Evolution
Edit
Previous evolutions are Totodile and Croconaw. Feraligator is the final evolution.