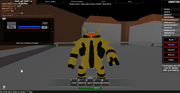 Description
Edit
Electivire is a humanoid creature covered in yellow fur with black stripes. It appears to lack a neck, and has red eyes, a black spot on its forehead, and a pair of antennae with bulbous tips.
Electivire is not obtainable in this game.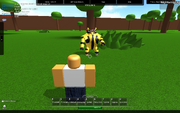 Level 50- Thunder
Level 80 - Body Slam
Type Weaknesses/Strengths
Edit
WEAKNESSES
STRENGTHS
Evolution
Edit
Pre-evolutions are Electabuzz and Elekid.