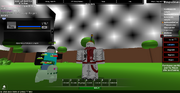 Description
Edit
Chikorita is a small, pale green Pokémon with a darker necklace of green buds and has a leaf on its head. It has pinkish red eyes with no pupils.
Chikorita can not be found in the wild but obtained when you start a new game.
Starts- Tackle
Level 7- Razor Leaf
Level 13- Absorb
Evolution
Edit
Chikorita evolves into Bayleef At lvl 0, then into Meganium At lvl 30.
Type Weaknesses/StrengthsEditEdit
WEAKNESSES
Flying Types what up
Poison Types
Fire Types
Bug Types
Ice Types
STRENGTHS
Grass Types
Ground Types
Water Types