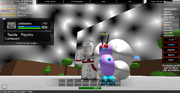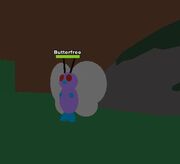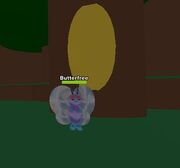 Description
Edit
Butterfree resembles a vaguely anthropomorphic butterfly with a purple body. Unlike true insects, it only has two body segments and four light blue legs. Butterfree has two black antennae, a light blue snout with two fangs underneath, and large, red compound eyes. Its two pairs of veined wings are white with black accents. The oval scales of a female Butterfree's lower wings are black, but white in males.
Butterfree can be caught at the Ghost Forest at Level 45. It knows Tackle , Confusion and Psychic when caught in this location.
Evolved-Tackle
Level 15-Confusion
Level 45-Psychic
When caught at Ghost Forest
Caught- Tackle, Confusion, Psychic
Evolution
Edit
Butterfree evolves from Metapod who evolves from Caterpie.
Type Strengths/Weaknesses
Edit
WEAKNESSES
STRENGTHS
Community content is available under
CC-BY-SA
unless otherwise noted.